Sleep Sherpa readers get $100 off your Layla Mattress with our exclusive coupon code: SLEEPSHERPA Activate Here
I received a free Layla mattress for review. Layla was created by mattress industry experts and silicon valley entrepreneurs. It's a killer blend of industry expertise and technology disruptors. What you get is a quality mattress with a creative twist at a great price. Layla is the first mattress to come out with copper infused foam. This is a big deal because it offers a host of new advantages most importantly is cooling. This mattress can be flipped so you can have a soft and firmer layer depending on preferences.
Ordering and Unboxing Your Layla
You can order the Layla mattress directly from their site at Laylasleep.com. According to their site, they have a 4 month trial period which is now standard in the online mattress world. However what is not standard is their new lifetime warranty that warrants against defects for the entire time you own the mattress. The details can be found on their warranty page. The mattress will arrive in about a week in a box and will be ready to sleep on in a matter of hours. I did notice this mattress had a significant amount of off-gassing so you may want to let it air out for a day before sleeping on it.
Layla also offers financing through Affirm so that you don't have to pay for it all at once.
Here's a video of me unboxing the mattress. Since you can sleep on both sides you should note that out of the box it is configured as the soft version. If you want to make it firm, you just unzip and remove the cover, flip the mattress and put the cover back on. It's a little time consuming so I don't recommend doing this frequently.
Construction of the Layla Mattress
The Layla mattress is constructed as follows: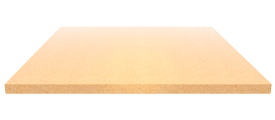 1) 3″ Copper Infused Memory Foam
RAPID HEAT TRANSFER
DEEP COMPRESSION SUPPORT
ANTIMICROBIAL
3.5 LB DENSITY
MED-SOFT COMFORT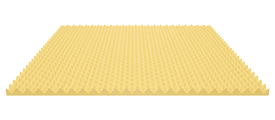 2) 2″ Convoluted Support Foam
DEEP CONVOLUSIONS
MAXIMUM AIRFLOW
1.8 LB DENSITY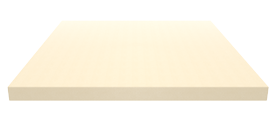 3) 4.5″ Base Support Foam
CORE SUPPORT
2 LB DENSITY
36 ILD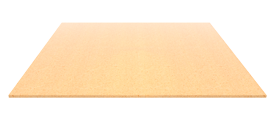 4) 1″ Copper Infused Memory Foam
RAPID HEAT TRANSFER
DEEP COMPRESSION SUPPORT
ANTIMICROBIAL
3.5 LB DENSITY
FIRM COMFORT
Here's a picture of the inside of the mattress to show what each of the layers looks like:
To get a sense of how each of the layers reacts and recovers below is a video of me squishing the mattress:
My Layla Bed Findings
Since this mattress has a firm and soft side I tested both to show you that while they do have a different feel it's not a dramatic difference.
Here's a video showing motion transfer and bounce on the soft side of the mattress. The Layla mattress has some decent bounce for an all foam mattress.
This is the readout from my accelerometer:
Here's a similar video but on the firm side of the mattress:

This is the accelerometer readout with the firm side:
To get a sense of how much you will sink into the mattress, I placed my bowling ball on each side. Below is the soft side:
And here is the firm side:
It's hard to tell there is much of a difference but you will notice a difference when you lay on the mattress. Aside from the firm side having less of the comfort foam, the convoluted layer is also upside down so you have a solid piece of foam underneath the comfort foam which makes for a firmer feel as well.
Finally, I put the copper infused foam to the test to see how well it dissipates heat using my infrared camera. As a control, I put my and on the mattress for 10 seconds then record how quickly the temperature drops. I notice the most rapid decline in the first 15-20 seconds. Compared to the other all foam mattresses I have tested, the Layla performed better than most. I have no idea if that was from the copper, the convoluted layer or both but something is working.
My Layla Mattress Recommendation
I found the Layla mattress to be slightly on the softer end of the spectrum. It's about the same level of firmness as the Leesa mattress but you get all the benefits of copper. There are claims that copper also aids in circulation and recovery. What I noticed was that it seems to keep me cool. But aside from this feature, it's a well-built mattress. The fact that you can flip it and go slightly firmer is a great feature.
Sleep Sherpa readers get $100 off your Layla Mattress with our exclusive coupon code: SLEEPSHERPA Activate Here
Disclosure: We aim to highlight products and services you might find interesting, and if you buy them, we may get a small share of the revenue. I have an affiliate relationship with Layla